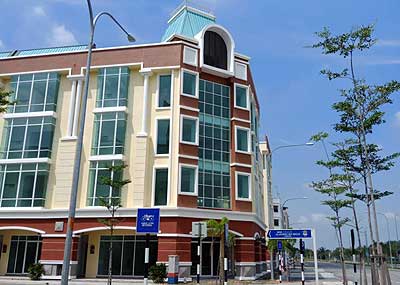 About TRT
TRT ENGINEERING (M) SDN BHD was established and commences business since March 2005. The company has business establishment in industry involving high profile of international standard requirements.
Our track records show that we are able to plan, design, installation, testing and commissioning of all M & E services commercial industries (Hotel, office, homes, service apartment), Residential, warehouse, manufacturing plants and electrical industries.
We provide value engineering and tailor our design to suit clients requirement including compliance with local authorities requirement and regulation.
Besides having complete project successfully, we also have participate in international standard of requirement such as ISO Standards, Conquas/Qlassic and other customized standards by the clients.
About Our Team of Construction
Our team of construction has more than 25 years of hands-on experience in heavy construction engineering. Throughout the years, we have acquired a credible track record in project management, project feasibility study and evaluation, procurement, contract administration, value engineering, quality management and construction management.
Through large-scale engagements with major Malaysian and international companies, the team has amassed laudable skills in managing complex high-value projects undertaking on design and build, turnkey and fast-track basis from inception to completion.
OUR PROJECTS TRACK RECORD
ITEM NO.
MAIN CONTRACTOR/CLIENT
DESCRIPTION OF PROJECT
1.
SUMITOMO ELECTRIC - SINTERED COMPONENT (M) SDN BHD
- Air-Conditioning & Ventilation
- Fire Protection System
- Cold Water & Sanitary Plumbing
- Process Cooling System
- Compressed Air System
2.
OMRON (M) SDN BHD, SUNGAI WAY, SELANGOR
- Air-Conditioning & Ventilation
3.
NDK QUARTZ (M) SDN BHD, SHAH ALAM, SELANGOR
- Heat Exchange for Chilled Water System
4.
PORITE (M) SDN BHD, BUKIT RAJA INDUSTRIAL, ESTATE, SELANGOR
- Process Cooling Water Stainless Steel Tank
5.
HOSIDEN ELECTRONICS (M) SDN BHD, BANDAR BARU BANGI, SELANGOR
- Cooling Tower & Pipe work
6.
OHTSUKI SEIKO (M) SDN BHD, PUNCAK ALAM, SELANGOR
- Air-Conditioning System
- Fire Protection System
- Cold Water & Sanitary Plumbing
7.
NIPPON EXPRESS (M) S/B, SEPANG, SELANGOR
- Electrical Works
- Architectural Works
- Ceiling works
8.
PERFECT EAGLE HOLDINGS SDN BHD
Architectural Wet Trade Works
- Cadangan Pembangunan Bercampur
  (Alam Pedana Phase 1 PT No.3861) Di
  Bukit Cerakah, Mukim Ijok, Daerah
  Kuala Selangor, Selangor.
9.
DENSO (M) SDN BHD, BANGI, SELANGOR
- Air-Conditioning & Ventilation System
10.
PERFECT EAGLE HOLDINGS SDN BHD
External Works -  Road Works
-Membina Dan Menyiapkan Cadangan
 Pembangunan 44 unit Kedai Pejabat
 Yang Mengandungi 2 Unit Kedai Pejabat
 5 Tingkat Dan 42 Unit Kedai Pejabat 3
 Tingkat Di Atas Sebahagian Lot Pt 21,
 Mukim Ampang Daerah Hulu Langat,
 Selangor Darul Ehsan.
11.
PANASONIC HA AIR-CONDITIONING R&D (M) S/B, SHAH ALAM, SELANGOR
- Coldroom Equipment System
12.
BETA JAYA SDN BHD, BANDAR BARU, KLANG.
- Electrical Wiring
- Ceiling Works
- Tiling Works.
13.
PANASONIC HA AIR-CONDITIONING R&D (M) S/B, SECTION 21, SHAH ALAM
- Air-Conditioning & Ventilation System
14.
RAXI MACHINERY SERVICES, BANDAR BUKIT PUCHONG
- Mobilization, site clearing And Cleaning
- Supply Manpower
- Supply 30 x 2.5mm PVC Cable
- Supply Tools And Transportation
- Supply Hitachi Compressor
15.
PURNAMA SOLUTION (M) S/B, SHAH ALAM
- Supply Manpower, tools/Installation
- Supply Thermocouple, Electrical Heater,
  Copper Electrical & control Cable
- Modification of Control Panel
- Supply And Replace VCB Breaker.
16.
PROTON PARTS CENTRE SDN BHD, SHAH ALAM, SELANGOR
- Air-Conditioning System
- Fire Protection System
- Electrical System
- Civil Works
- Telephone System
- Networking System
17.
ASIAN NDK CRYSTAL SDN BHD, SHAH ALAM, SELANGOR
- Air-Conditioning & Ventilation System
- Servicing & Repair of 50 Tons Air-Cooled
  Chiller.
- Supply & install 212 Tons Air-Cooled Chiller
- Air Compressor System
- Fire Protection System
- Electrical System
- PA System
- Civil Works
18.
S.H.M ENGINEERING S/B, KUCHING, SARAWAK.
- Proposed Construction And
  Completion of Foundation.
- Piling Works
- Building Extension Works
- Architectural works
- Flooring, Tiling, Ceiling and Painting work.
19.
PANASONIC HA AIR-CONDITIONING R&D (M) S/B, SECTION 21, SHAH ALAM
- Fire Protection System
- Air-Conditioning System
- Refrigerated Cold room System
20.
PURNAMA SOLUTION (M) S/B, SHAH ALAM
- Supply Manpower & Tools & Installation Job
21.
PANASONIC HA AIR-CONDITIONING (M) SDN BHD
- Fire Protection System
22.
RAXI MACHINERY SERVICES, BANDAR BUKIT PUCHONG
- Dismantle Existing Water Pump
- Supply Suction Centrifugal Pump
- Supply Steam Control Valve
- Supply Manpower
- Supply Yaskawa Inverter
- Supply Showadenki Blower
23.
QGROW SDN BHD, KUCHING, SARAWAK.
- Repair Mobrey Valve Model, 80311 LD
24.
PANASONIC HA AIR-CONDITIONING R&D (M) SDN BHD, SECTION 21, SHAH ALAM
- Building Renovation.
- Architectural finishes
- Tiling, Ceiling and Painting work.
25.
FUJI ENGINEERING SDN.BHD., SECTION 33, SHAH ALAM.
- Column And Beam Demolish.
- Ground Beam Construction And Flooring.
- Column And Support Beam
- Floor Screeding, Tiling, Ceiling & Painting works.
26.
S.H.M ENGINEERING S/B, KUCHING, SARAWAK.
- Existing Column Re-inforcement
- Water inlet Pipe Extension
- Electrical Work For West Oil Mill
- To supply 150mm x 4C Arm Cable
27.
RAXI MACHINERY SERVICES, BANDAR BUKIT PUCHONG
- Supply Manpower And Tools
- Extend Steam Drain
- Relocated Government Water Pipe
- Relocated N2, O2 And LPG Manifold
- Water Drain Pipe & Steam Drain Pipe
- Steam Pipe for New Building Tapping
- Government Water Pipe for New Building
- PU-Chemical Foaming Insulation
28.
FUJI ENGINEERING SDN.BHD., SECTION 33, SHAH ALAM.
- Brick And Plastering At Glass
- Sound Room Wall Plastering And Touch Up
- Ceiling & Painting
- Tiling works.
29.
FUJI ENGINEERING SDN.BHD., SECTION 33, SHAH ALAM.
- Gas Storage Dismantle Temporary Tank.
- Cable Trench Support Modification.
- Site Obstruction For Building Construction.
30.
FUJI ENGINEERING SDN. BHD., SECTION 33, SHAH ALAM.
- Support Structural For Metal Wall Cladding
- Brick wall Ha king Cart Away And Touch Up
31.
PURNAMA SOLUTION (M) S/B, SHAH ALAM
- Supply Copper Heater, Electrical Heater &
  Control Cable
32.
FUJI ENGINEERING SDN. BHD., SECTION 33, SHAH ALAM.
- Partially Floor Slab Construction
- Water Down Pipe
33.
PANASONIC HA AIR-CONDITIONING R&D (M) S/B, SECTION 21, SHAH ALAM
- Air-Conditioning & ventilation
- Fire Protection System
- Cold water & Sanitary Plumbing
- Steam System
- Utility Pipe work
34.
RAXI MACHINERY SERVICES, BANDAR BUKIT PUCHONG
- Piping Work
- Water Drain Line From Roof Top Water
- Annual Inspection JKKP
- Modification Of Steam Drain Pipe
- Supply Tools
35.
PURNAMA SOLUTION (M) S/B, SHAH ALAM
- Supply Control Cable, Delay Timer,
  Philips Heater, Copper Electrical
  Heater & Materials / Installation
36.
PANASONIC APPLIANCES AIR-CONDITIONING R&D (M) SDN BHD
- Additional Chiller (Standby) for Reliability
  Room Testing
37.
KEJURUTERAAN MERCANTILE NEON SDN BHD
- Electrical installation and lighting at KFC
  outlets in Sri Kembangan, Selangor.
38.
KEJURUTERAAN MERCANTILE NEON SDN BHD
MRT Project, Kota Damansara
- Installation Of Street Lighting Including
  Laying Cables, termination at Street
  Lighting Poles.
- Maintenance works for existing and new
  Street Lighting.
39.
KEJURUTERAAN MERCANTILE NEON SDN BHD
- HT cabling, installation of HV switchgears
  and transformers and ELV system at DCA
  tower, KLIA2.
40.
SIRIM BERHAD
- Supply, installation, testing and
  commissioning of walk-in temperature
  humidity chamber for refrigerators energy
  efficiency test.
41.
SIRIM BERHAD
- Supply, installation, testing and
  commissioning of walk-in draught proof
  temperature control chamber.
42.
KEMENTERIAAN PENDIDIKAN MALAYSIA
- Cadangan Pembinaan Tapak Baru
  SJK(T) Ladang Pertang, Simpang
  Pertang, Negeri Sembilan.
43.
UMLAND BUILDERS SDN BHD
- Proposed 78 unit of 4 story shop office at
  phase SBI, Bandar Seri Alam, Mukim
  Plentang,Masai, Johor.
  (External and Road works)
44.
MAGSAT ENTERPRISE, KLUANG, JOHOR
- Site cleaning and Earth work (10 acres)
  at Bukit Sipot, Segamat, Johor.
45.
UMLAND BUILDERS SDN BHD
- Proposed 78 unit of 4 story shop office at
  phase SBI, Bandar Seri Alam, Mukim
  Plentang,Masai, Johor.
  (Tiling Works)
46.
KEJURUTERAAN MERCANTILE NEON SDN BHD
- Cadangan Pembinaan Pencawang TNB
  (SSU) di Putra Mukim Sg. Raja, Perak.
- Architectural works
- Floor & wall tiles, Painting.
47.
KEJURUTERAAN MERCANTILE NEON SDN BHD
- Installation, site testing and
  commissioning of transformers at
  Petrochemical plant in Gebeng, Pahang.
48.
KEJURUTERAAN MERCANTILE NEON SDN BHD
- Extension of existing TNB (PE) Sub-
  Station at Agro Mall, Gopeng, Perak.
49.
PANASONIC APPLIANCES AIR-CONDITIONING R&D (M) SDN BHD
- Fencing work at Panasonic
50.
AKADEMI KRUNZ SDN. BHD., SEREMBAN, NEGERI SEMBILAN.
- Cadangan Membina Sebuah Sekolah
  Antarabangsa Swasta 3 Tingkat
  Berserta 1 Unit Pencawang Elektrik
  Dan 1 Unit Pondok Pengawal Di Atas
  Lot 21774, Grn 88585, Seremban 2,
  Mukim Rasah Daerah Seremban,
  Negeri Sembilan Darul Khusus.
51.
FUJI ENGINEERING SDN BHD, SECTION 33, SHAH ALAM.

- Proposed extension of R&D Department
at Panasoniac HA Air-Conditioning R&D (M) S/B, Shah Alam.

52.
REGAT UNGGUL SDN. BHD., KOTA KMUNING, SHAH ALAM, SELANGOR
- Cadangan kerja menaik taraf bangunan
  sekolah sediada serta merekabentuk dan
  membina 1 blok 4 tingkat bangunan
  asrama puteri di sekolah menengah
  agama (Arab) An-Nur (SABK), Benut,
  Pontian, Johor.
53.
HIGH CANS CORPORATION S/B, SUNGAI BESI, KUALA LUMPUR.
- Cadangan Membina Sebuah Gudang 1
   Tingkat Dengan Pejabat 2 Tingkat Dan 1
   Tingkat, Di Atas Plot 6, Jalan Zurah 7,
   Kawasan Perindustrian Zurah, Mukim
   Rasa, Daerah Hulu Selangor, Selangor
   Darul Ehsan Untuk Tetuan Perbadanan
   Kemajuan Negeri Selangor.
54.
HANWHA Q CELLS MALAYSIA S/B, CYBERJAYA, SELANGOR.
- MYQ1.6 Civil Works
55.
MUDAJAYA CORPORATION BHD. MRT-V3 PROJECT
- Landscaping works for MRT project,
   package V3 at Damansara.
56.
HANSOL KNM GREENTECH SDN BHD, SERI KEMBANGAN, SELANGOR.
- 100 Tpd Scheduled Waste To Energy
  Plant Complete With At Ladang Tanah
  Merah A3 Division, Bukit Pelandok,
  Negeri Sembilan, Malaysia.
  (Hkg1310002)